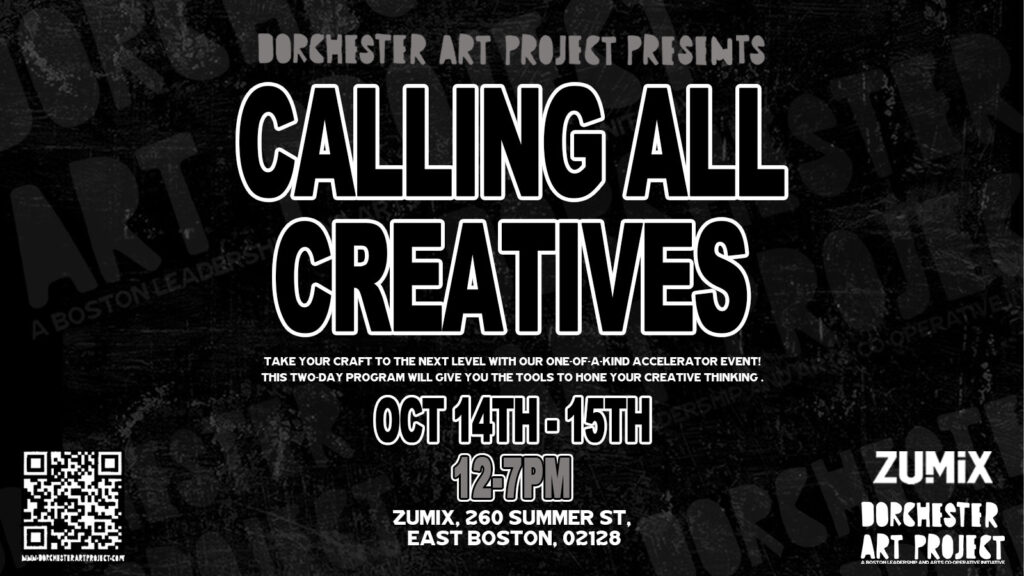 UNLEASH YOUR
CREATIVE
POTENTIAL!
October 14th & October 15th, 2023
Are you ready to take your creativity to new heights? Look no further!
The very first CALLING ALL CREATIVES Accelerator is here to fuel your imagination, ignite your innovation, and propel you towards success. Take your craft to the next level with our one-of-a-kind accelerator event! This two-day program will give you the tools to hone your creative thinking and maker skills.
Inspiring Panel Discussions: Gain unparalleled insights from esteemed industry professionals who have carved their paths to greatness. Discover the secrets behind their success stories, learn from their challenges, and get ready to embark on your own creative journey.
Expert-led Workshops: Dive deep into the world of creative craftsmanship through interactive workshops led by seasoned experts. From refining your skills to mastering new techniques, these hands-on sessions are designed to equip you with practical tools that you can implement right away.
Networking Opportunities: Connect with a diverse community of creatives, share ideas, and forge valuable partnerships that could lead to your next big breakthrough. The power of collaboration knows no bounds – seize this chance to expand your horizons.
Elevate Your Creativity: Whether you're an artist, designer, writer, or visionary of any kind, the CALLING ALL CREATIVES Accelerator is your launchpad to boundless opportunities. Fuel your passion, elevate your skills, and redefine what's possible for your creative ventures.
CALLING ALL CREATIVES ACCELERATOR
October 14th & October 15th, 2023
Location: Zumix, Boston, Massachusetts 02108
Time: 12:00pm – 7:00pm
Don't miss your chance to be a part of this groundbreaking event. Secure your spot now and open the door to a weekend filled with inspiration, knowledge, and connections that could shape your creative future. 
Unleash your potential, amplify your creativity, and join us at the CALLING ALL CREATIVES Accelerator on October 14th and 15th, 2023. Together, let's make this a weekend to remember for all creatives alike. For inquiries and more information, please contact us at dorchesterartproject@gmail.com or visit our website at dorchesterartproject.com.
See you there!